I am totally digging the waxed jeans this fall. They are like a rugged cheaper version of leather pants. I also saw where you can do it yourself with Otter Wax which is an all natural fabric wax which has a great lemony scent.
So, I decided to give it a shot. I went down to Pollux in downtown Montrose and bought a pair of eggplant skinny jeans that I think will be super cool waxed. I also want to find a black jean mini skirt to do.
Guys: The look is really cool on you too!
Sheshe Boutique in downtown Montrose has some waxed jeans and skirts available if you aren't the DIY type of person. And Two Skirts in Telluride carry Current Elliot waxed jeans. I love the mulberry color!
I followed the tutorial below that I found online. I also read that you should cold water wash your pants. I won't be putting them in my wash with that wax. But they shouldn't need to be washed often with that coating. When the wax dulls then just put another coat on of Otter wax.
Here is the inspiration:
Kim is always looking fashionable
Love the colored denim
Taylor Thomasi - looking good as usual
Here's How to Do It: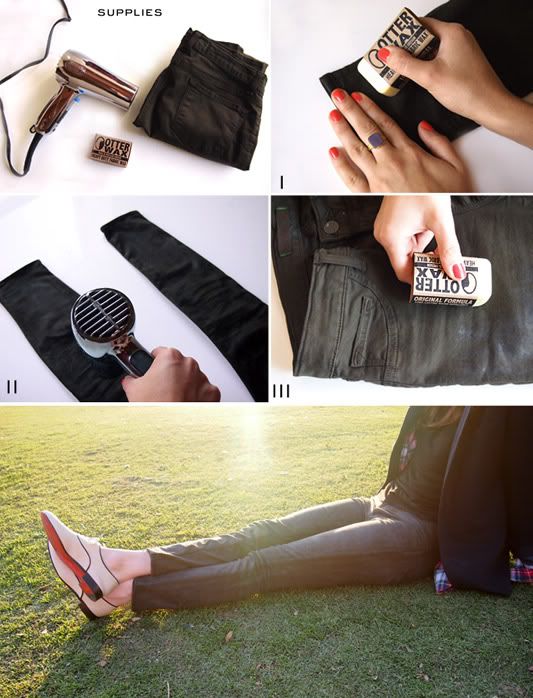 Here are my Jeans:
Here are the great pair of skinny jeans from
Pollux
(thanks so much Brian). They aren't a true denim though but more of a stretchy denim. It looks pretty cool but they kinda get white streaks on them when they are cold. Also, it does leave a little bit of a waxy film on things and on my hands. I did use the hairdryer to help blend it in. I think that I might need to wear them for a while to see how they do over time. I think that a heavier denim might hold the wax a little better too. I will try that on some black denim jeans or a skirt and report back. But overall they look pretty darn cool and at a fraction of the cost!!
The best pictures are with just one leg done so you can really tell the difference in the look. I am heading to the city today, and I plan on wearing them out on the town with my man. I will let you all know how it goes - the pants part that is ;)
Click
HERE
to see them on me!