A pixie cut can be just the change that you needed! I am loving mine but it definitely took me a while to get adjusted. It is such a different style and for someone that has way too much hair with way too much volume - It can also mean a headache to style and cut. So, let me fill you in on what it's really like to have a pixie cut and show you some ways to wear it:
Here is a picture from my previous post -
My Pixie Haircut!
. Check it out to see what I looked like with very long hair.
I really liked this cut but I wanted it a little shorter more pixieish.
So we went uber short. I liked wearing it spiked up then. It was so short that this was about the only way that I could wear it. My hair just would not lay down. I have a double cowlick in the back and one in the front.
This is my everyday look now. I have found that if I part it on the opposite side of my usual part/cowlick then I get this nice feathered look that lays flat. Also, the best way to style this is to blow dry it all forward and then the bangs to the side.
Sometimes, I like to do the messy bobby pin look. I use any where from 3 to 5 bobby pins. You can spike up the back a little too.
Simple headbands are really flattering. I love this grey leather knotted one. Just fix your hair as usual and set in place.
I also have this shiny, wide black one that helps dress up an outfit. You can style as usual and spike up the back a little.
I love scarves but they are a little harder to pull off with the pixie because you don't have a lot of hair to keep it in place in the back. I like either doing a long skinny scarf to create that front ponytail look. Or....
I like to do a headwrap all over to create that Bohemian look. Make sure you pair it with some fun hoops!
I am a hat girl. I just love them. But now with short hair I have to be a little more selective with my hats. Choose ones that don't cover too much of your hair. Also, make sure that you dress more feminine when you wear a hat that way it doesn't read to butch looking i.e. show more skin on your shoulders & neck, wear lace, sundress. If you do choose a big floppy hat that covers all your hair, it will still look great because you most likely will be showing a lot skin or wearing a long flowing dress.
My products
Paul Mitchell Super Clean Sculpting Gel
- I use when wet.
Garnier Texture Paste, Surf Hair
- I use when it is dry to mold in place.
*Remember, I have thick, heavy, curly crazy hair! These products help me manage it.
Also, a pixie haircut is a lot harder than it seems for the hairdresser. It has to done just right for the look that you want. SO, have some patience and keep going back until it's just right. But all in all, I do like my cut but it takes some time fiddling with the actual hair cut, the styling products that work best on your hair & styling it just right. Give yourself at least a 3 month learning curve!! Also, every day you have to style it. There is no ponytail option. But it really only takes a few minutes.
Here are some other style inspirations that I love for the pixie.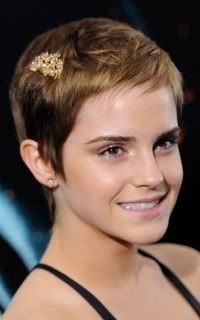 I love the comb. Very subtle & classy to dress up.
Michelle Williams - I love how it combs forward. It has a nice sweep across the face.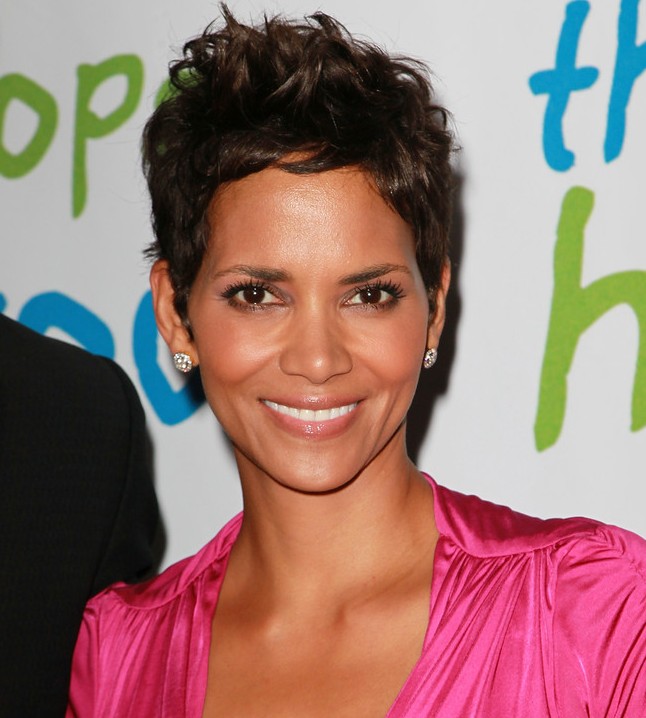 Halle Berry - I love how it is messy.